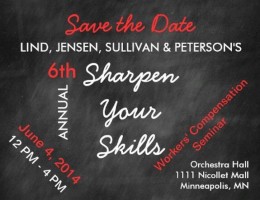 Lind, Jensen, Sullivan & Peterson will be hosting its 6th Annual Sharpen Your Skills Workers' Compensation Seminar on June 4, 2014 from 12 p.m. to 4 p.m. at Orchestra Hall, located at 1111 Nicollet Mall, in downtown Minneapolis.
We expect a lively discussion on the following topics: Subrogation 101, Traumatic Brain Injuries, Job Accommodations: Employment Law Considerations, and 401 Comp; Retirement Demographics and Defenses. Thomas Beniak, Ph.D. ABPP and Agapitos Papagapitos, Ph.D. will also speak at the seminar.
If you would like to attend, please email RSVP@LindJensen.com or call (612) 333-3637.